We always do a lot to maintain our oral health. From brushing & flossing several times each day, to using a mouthwash to rinse and get rid of bacteria in our mouths. Though these hygiene practices are essential in providing impressive results, other functions may not be fulfilled. Toothaches, gum disease, and cavities are common problems that happen to everyone. One of the primary solutions to reducing the risk of these problems is getting routine dental cleanings and examinations. At Healthy Smiles Family Dentistry, we provide you with a comfortable dental cleaning experience customized to satisfy your specific needs. Seeing a dentist regularly is vital if you are serious about protecting your oral health. Receiving this essential service at least once in six months will give you the bright and healthy smile you desire.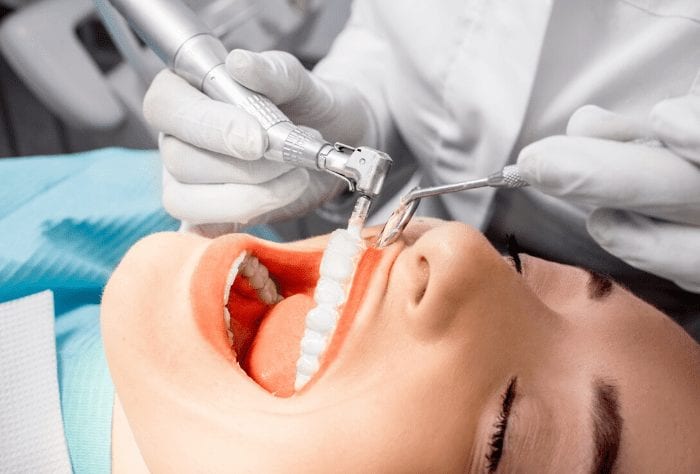 How does dental cleaning work?
Teeth cleaning is a relatively simple, quick, and painless process. The first step is assessing your dental condition by looking for any problems that need to be addressed. We will then begin by removing plaque and tartar from the gum line and in between the teeth. A small mirror is used to eliminate tartar that has formed behind the teeth. Equipment used include a manual hand scaler and ultrasonic scaler which uses water pressure and vibration to extract tartar and plaque. This is a painless process though many people may feel uncomfortable when they hear scraping sounds. The scraping usually depends on the amount of tartar and the duration it has stayed.
After the scaling process, the teeth are polished using a high-powered brush to remove remaining stains and tartar from areas that could not be easily scraped. Each tooth is then cleaned individually and polishing completed by the use of a handheld rotary item and a polishing paste. After that, the teeth are flossed, after which added protection is applied in the form of topical fluoride varnish. The varnish is used to prevent potential dental problems. It also helps to re-mineralize the teeth. After the completion of the exam, Dr. Vanessa Wadden will recommend the required hygiene practices to take care of your teeth. Additionally, you will be provided with appropriate treatment based on any diagnoses made during the exam.
​Schedule Your Appointment for a Teeth Cleaning in Muscatine, Iowa Today!
At Healthy Smiles Family Dentistry, we provide dental cleanings and examinations to patients throughout Muscatine and its outskirts. We believe that regular checkups and other means of dental preventative care are essential in maintaining perfect oral health. Our patients' well-being is our main concern, and the best way to ensure this is by providing continuous dental care and by teaching good oral hygiene practices. Dr. Vanessa Wadden works with patients of all ages and serves families throughout Iowa. We ensure that children are provided with the right foundation in which baby teeth can grow properly and stay healthy until adult teeth are ready to come in. We recommend dental cleanings and examinations at least twice annually. If you're nervous about receiving dental care, you will not be pressured to have a dental cleaning during your first visit. Don't hesitate to book an appointment with us, especially if you live near Muscatine.
Schedule your appointment Now
Lorem ipsum dolor sit amet, consectetur adipiscing elit. Pellentesque lacinia, ipsum eu vulputate pulvinar